Bunt Bits
More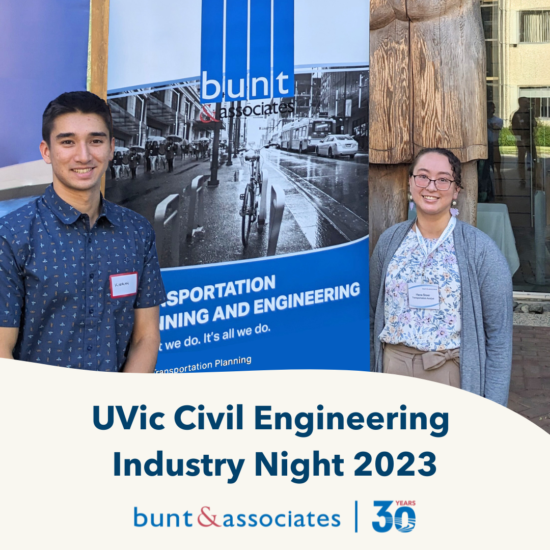 University of Victoria's Civil Engineering Industry Night 2023
Bunt & Associates was proud to be a Gold Sponsor of the University of Victoria (UVic)'s Annual Civil Engineering Industry Night on June 22, 2023, jointly hosted by the Canadian Society for Civil Engineering (CSCE) and the Institute of Transportation Engineers (ITE) UVic Student Chapters. Hana Stoer and Kieran Quan, both graduates of UVic, had the pleasure of meeting the young talents and sharing their experiences from Bunt's diverse projects in transportation engineering and planning.
At Bunt, we strongly believe in fostering the growth of emerging professionals. We have been hiring students from UVic through their Co-op Program since 2018. Hana and Kieran were the co-op students hired in our Victoria office in 2018 and 2020 respectively, and rejoined the company full-time after graduating from the Civil Engineering program.
Kudos to CSCE and ITE UVic Student Chapters for organizing this successful event. It was a wonderful opportunity for us to strengthen our ties with the academic community.
Posted: June 2023