Bunt Bits
More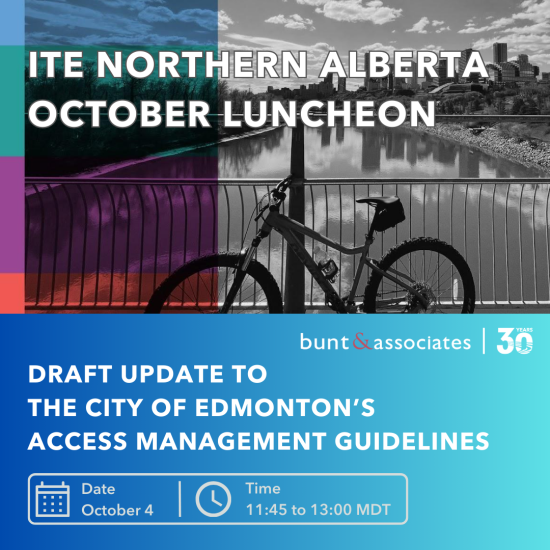 Register Today for ITE Northern Alberta October Luncheon
Bunt & Associates is excited to sponsor the upcoming ITE Northern Alberta Luncheon on October 4, 2023. Join us for an insightful session on the development of the City of Edmonton's updated Access Management Guidelines. Catherine Oberg, P.Eng. and Alyssa Lefebvre, P.Eng. will share how the draft updated guidelines balance land access and servicing requirements while considering all modes of transportation.
Date: October 4, 2023
Time: 11:45 am to 1:00 pm MDT
Venue: University Club at the University of Alberta
Over the past decade, the City of Edmonton's planning and development processes have evolved to further recognize that the integration of land use and transportation is essential to achieving desired city-building outcomes as outlined in Edmonton's City Plan. The update to the Access Management Guidelines, initially developed in 2012, includes a jurisdictional scan in addition to a review of the existing guidelines, City standards, and policies to identify areas for improvement for inclusion in the updated access management guidelines.
We look forward to seeing you there! Register today using the link below:
https://www.itecanada.org/event/ite-northern-alberta-october-luncheon/
Posted: October 2023