Bunt Bits
More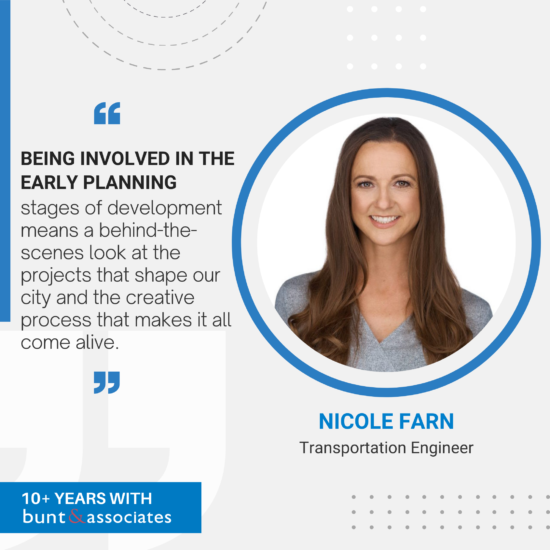 Meet Nicole Farn
When did you start working at Bunt & Associates?
I helped to open the doors of Bunt's Edmonton office in 2002.
What do you like about working at Bunt & Associates?
From diverse clients to passionate colleagues, working at Bunt is a people place. And I really like people.
What do you like most about transportation engineering?
Being involved in the early planning stages of development means a behind-the-scenes look at the projects that shape our city and the creative process that makes it all come alive.   
What are you most passionate about when it comes to your career?
Transportation infrastructure of all kinds enables us to connect to the places and the people we each prioritize. I like to think that enabling these connections to occur efficiently and effectively helps the world go round just a little more smoothly.
What stands out to you about the transportation world?
As a frequent traveler to less developed nations, often with cities that experience harrowing levels of traffic congestion and remote corners that accommodate only dirt paths, I appreciate the way diverse societies (including our own) adapt and adopt innovative practices to get from A to B.
What would be the title of your autobiography?
Two feet and a heartbeat.
Posted: December 2021