Bunt Bits
More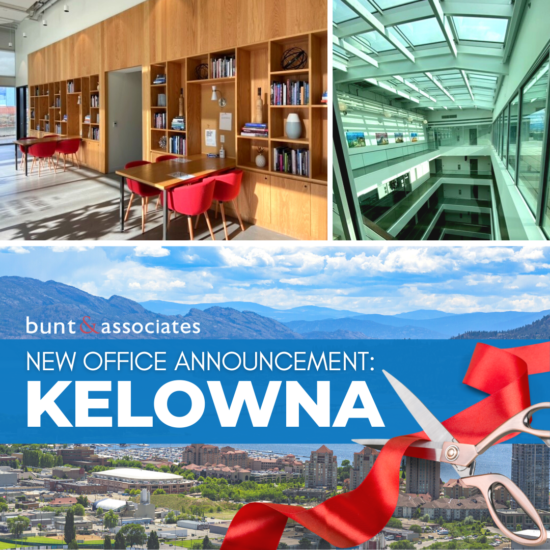 We've Opened an Office in Kelowna!
Bunt & Associates Engineering Ltd. is very excited to announce the opening of a fifth office, located in Kelowna, British Columbia. The BC Interior is a wonderful place to live, work, learn and visit which have all contributed to the considerable growth of this area. We have had the privilege to be involved with a wide variety of projects in this area, and now with our feet planted directly in Kelowna, we look forward to working even more closely with our clients and professional colleagues across the region.
Our office is located in Downtown Kelowna, a block away from City Hall, and steps away from a number of projects with which we are presently involved.
"This has been a long time coming and given the extent of our past and present project work in the area, and the importance we place on building and maintaining professional relationships, it's really overdue. We are pleased and proud to expand our office base by committing to a permanent local presence in Kelowna."
– Glen Pardoe, President
Office Address:
Bunt & Associates Engineering Ltd.
106-460 Doyle Ave
Kelowna, BC V1Y 0C2
Phone:
(778) 738-3940
Posted: January 2022