Bunt Bits
More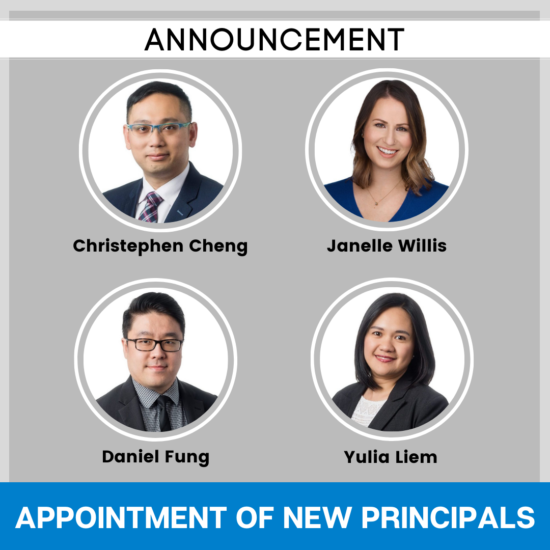 Appointment of New Principals
Bunt & Associates is pleased to announce the appointment of four new Principals. These individuals have helped shape the culture of our workplaces and contributed to  the success of our company.
Christephen Cheng is a Senior Transportation Engineer and Group Manager who has been with Bunt & Associates since 2005. He holds a particular passion for providing guidance to our younger staff. Chris's achievements include many high-profile projects throughout Metro Vancouver and BC Interiors such as the New St Paul's Hospital Design-Build, Simon Fraser University Burnaby Campus Master Plan, Brentwood Town Centre Redevelopment, Sen̓áḵw Master Plan, City of Coquitlam's City-Wide Parking Review, and University of British Columbia Downtown Kelowna Campus.
Daniel Fung is the Regional Manager of our BC offices who has been with Bunt & Associates since 2014. Daniel has played an important role in bringing enthusiasm and exemplary leadership to our BC offices.  His transportation engineering experience spans Canada, the United States and Hong Kong with a wide range of project types from traffic impact studies to major transportation/transit infrastructure.
Janelle Willis is a Senior Transportation Engineer who joined Bunt & Associates in 2006 after graduating from the University of Alberta. Her dedication and commitment to the company have resulted in her advancement through progressively responsible positions over the years. Janelle is currently a member of the Board of Directors and is leading the completion of Bunt's strategic plan to help drive the organization forward over the next five years.
Yulia Liem, a Senior Transportation Engineer, has been with Bunt & Associates since 2003 when she first started as an Intern. A recently landed immigrant from Indonesia, Yulia quickly delved into the world of Canadian transportation engineering and soon after, was hired as a full-time employee. Today, Yulia is one of the leaders of our company and plays an integral role in corporate initiatives, particularly in human resources.
Posted: November 2021