Bunt Bits
More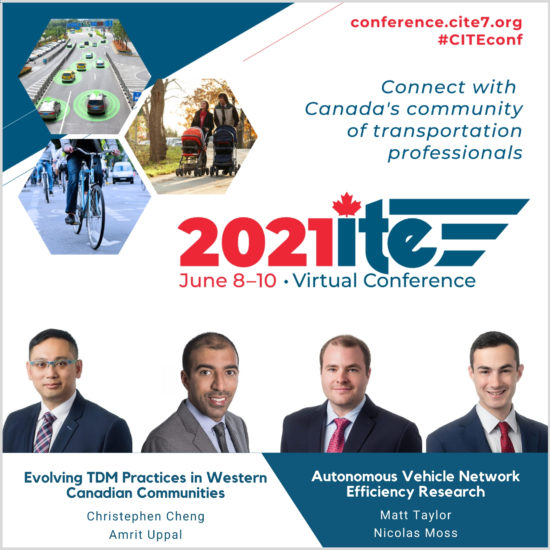 CITE Conference 2021
Bunt & Associates is pleased to sponsor the 2021 CITE Conference. The three-day event has gone virtual, and we are excited to be involved in different ways.
In addition to our sponsorship, we will be hosting a Thought Leader Roundtable on Evolving Transportation Demand Management Practices in Western Canadian Communities. It will be led by Christephen Cheng, Amrit Uppal with guest panelists Kathy Ho (City of Coquitlam) and Rosemarie Draskosvic (City of Vancouver). The discussion will include Bunt's research work that supported the TDM policies of two municipalities. If you are not registered for the CITE conference but would still like to attend the roundtable, RSVP here and we will share Zoom details with you.
Secondly, a presentation on Transportation Network  Efficiency with Demand Responsive Services  will be done by Matt Taylor and Nicolas Moss.  They will be comparing transportation performance of single-occupant and multi-occupant on-demand transportation systems to personal vehicle use and standard bus service with fixed routes and timetables.
If you miss the events, want to learn more, or just want to say hello, make sure to drop by our virtual showcase. This year, in lieu of swag, we will be donating to Canadian Red Cross, Canadian Parks and Wilderness Society and Better Environmentally Sound Transportation (BEST). So, visit our showcase and show your support!
Posted: June 2021