Bunt Bits
More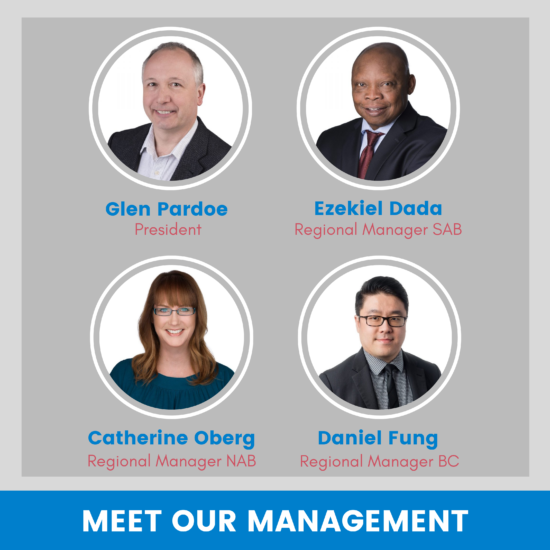 Meet our Management
Bunt & Associates is made up of an amazing group of engineers, planners, technicians and administrative personnel, many of whom have been with the company for over a decade. In the coming months, we will be highlighting our 10-year+ staff members that continue to provide long-term and ongoing contributions to the knowledge, culture and skills that have made Bunt a leading firm in the transportation engineering world.
To start things off, we are pleased to introduce our senior management team. These individuals provide the leadership that helps us navigate everything transportation while fostering an environment that encourages staff to grow.
Glen Pardoe was appointed President in 2018 and his role includes direction for the firm throughout Western Canada as well as being involved with the management and execution of projects in southern Alberta. He is one of the original founders of Bunt from its inception in 1993 and provides valuable expertise on projects and company direction while maintaining strong relationships with our clients.
Ezekiel Dada is the Regional Manager at our Calgary office. He has over 20 years of experience in transportation planning, traffic engineering, parking planning and management, and academia. Ezekiel is a reviewer for the Journal of Advanced Transportation Engineering, currently an external examiner for Civil Engineering and was an adjunct professor at the University of Calgary.
Moving North to our Edmonton office, Catherine Oberg is our Regional Manager with over 20 years of experience in transportation engineering and planning. Catherine possesses a comprehensive understanding of the relationship between land use planning and transportation planning through her work in both the public and private sectors.
Finally, in our Vancouver office, Daniel Fung brings over 15 years of experience in traffic engineering and transportation planning in Canada, United States, and Hong Kong.  His areas of expertise include traffic operations analysis, trip generation analysis, traffic impact assessments, multiple accounts evaluations and business case development, signing and pavement marking design, conceptual/functional planning, and transit station planning.
Posted: May 2021