Bunt Bits
More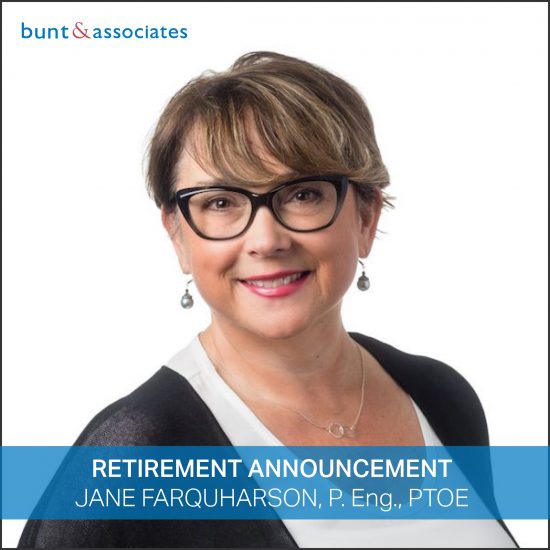 Announcing Retirement of Jane Farquharson, P. Eng., PTOE
The past couple of years has marked significant changes in the evolution of Bunt & Associates with the welcoming of new Shareholders and ownership/leadership transitioning of long-time colleagues. Our story continues with the announcement that Jane Farquharson, former Principal | VP Operations | Regional Manager, BC will be retiring from Bunt & Associates.
Effective January 31, 2020, Jane will transition to part-time work on an as-needed basis until the end of July, 2020. She will be available to her clients through this period while ensuring that her project work smoothly transitions to other senior staff. "It's amazing to realize I've been at Bunt over 16 years  –   it's gone by so quickly in part due to the wide variety of interesting projects and engaging clients I've been involved with over the years.   It's been busy,  fun, and challenging for sure, but I'm looking forward to the next stage of my life." – Jane Farquharson
We at Bunt & Associates acknowledge and thank Jane for her significant contribution to the company and indeed the transportation industry. She has exemplified excellence in all facets of her career; from technical and project management leadership to helping move our company forward with several important strategic and organizational initiatives.   In short, Jane's contributions have been huge, impactful, and appreciated.
Posted: December 2019