Bunt Bits
More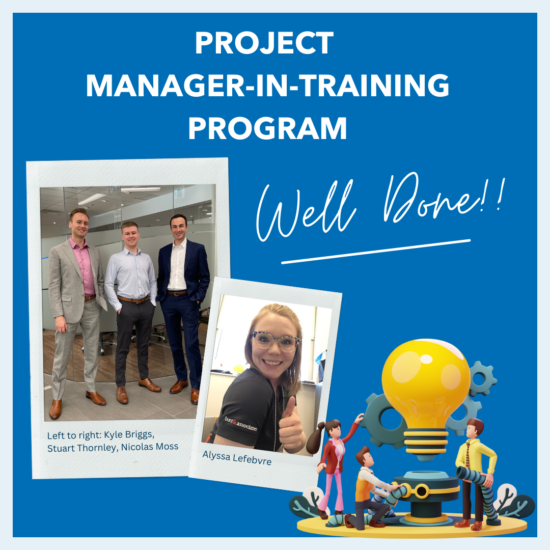 Project Manager-In-Training Program
Congratulations to Alyssa Lefebvre, P.Eng., Kyle Briggs, P.Eng., PTOE, Nicolas Moss, P.Eng., and Stuart Thornley, P.Eng. on completing Bunt & Associates' in-house Project Manager-In-Training (PMiT) Program. Well done!
Bunt's PMiT Program, which began in 2020, is designed to provide prospective Project Managers with the necessary skills and experience to become effective Project Managers. Spanning a period of 6 to 12 months, the program includes directed internal learning sessions, coaching from senior staff, 1:1 check-ins, and intentional project assignment aimed at developing both the technical and soft skills required for great project management.
Kudos to James Lee, P.Eng., MBA, PMP for leading this program and contributing to the development of the next generation of leaders within the company. As we prepare for our next cohort, we are committed to fostering a culture of learning and development at Bunt to enhance our employees' skills and advance their careers.
Posted: May 2023