Bunt Bits
More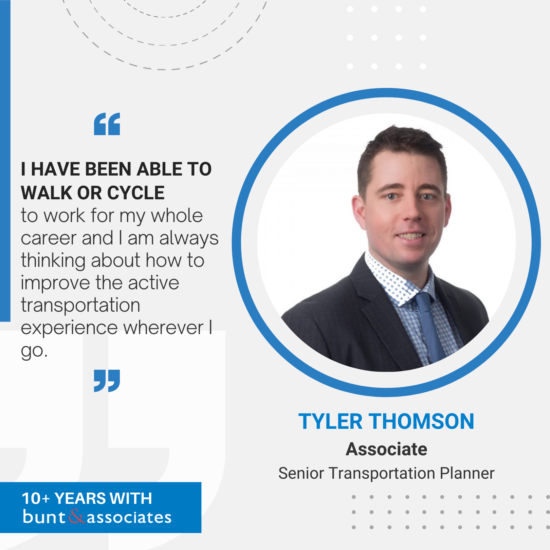 Meet Tyler Thomson
When did you start working at Bunt & Associates?
In October 2006, I started as a traffic counter for the University of Victoria travel mode surveys. And then in November of the same year, I became a Transportation Planning Assistant to Les Archer, a Senior Transportation Planner in the Victoria office at the time.
What do you like about working at Bunt & Associates?
The diversity of every project is what I love most about working at Bunt.  We get to work on a wide variety of projects with varying levels of complexity and we get to help improve the way people move around their communities.
What do you like most about transportation planning?
Everybody needs to get to places; whether for work, school, recreation, or running errands. I like that we play a part in helping make those journeys safer and more efficient in the spirit of sound urban planning.
What does your expertise include?
I have a passion for active transportation. I have been able to walk or cycle to work for my whole career and I am always thinking about how to improve the active transportation experience wherever I go. I like to think of myself as an active transportation expert, and part of an active transportation planning hub that is the Bunt Victoria office.
What are you most passionate about when it comes to your career?
Making cities and towns safer, comfortable, and more enjoyable to move around for all road users.
Anything special you want to share?
My wife (then fiancé) and I were once featured on a Global News special by Mike McCardell for counting pedestrians on Robson Street for my Master's thesis on improving pedestrian design of Robson Street. He saw us sitting on the sidewalk with JAMAR boards counting all the people that were passing by. He interviewed us and turned it into a love story piece as my fiancé was with me and supportive of my passion for transportation planning.
What animal would you choose to be and why?
I would choose to be a sea turtle (in Hawaii specifically) because who doesn't love sea turtles? They live for a long time and get to be in the ocean and on land. Good balance.
Posted: March 2022