Bunt Bits
More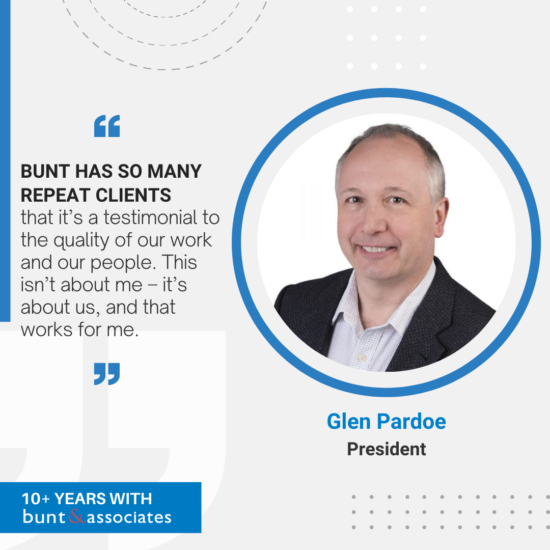 Meet Glen Pardoe
When did you start working at Bunt & Associates?
I started in 1987 when it was still BA Consulting Group prior to Paul Bunt acquiring the Vancouver office of BA and changing the name to Bunt & Associates in 1993.  I also took a hiatus from Bunt between 1998-2001 but rejoined to start-up the Calgary office.
What do you like about working at Bunt & Associates? 
The people. There is something fabulous about the kind of personalities that we tend to attract.
What do you enjoy about transportation planning and engineering? 
The variety, and the fact that we get to see our work making a difference.
What are some of your top skills?
I like to think I am easy to get along with, and a good collaborator, and that working with Bunt feels the same way.
What are you most passionate about when it comes to your career? 
Finding a solution when no solution seems to be obvious.
What are you proud of?
Bunt has so many repeat clients that it's a testimonial to the quality of our work and our people.  This isn't about me – it's about us, and that works for me.
What would be the title of your autobiography?
It's Just a Report, It's Not a Kidney: A Consultant's Guide to Maintaining Sanity
Posted: July 2022