Bunt Bits
More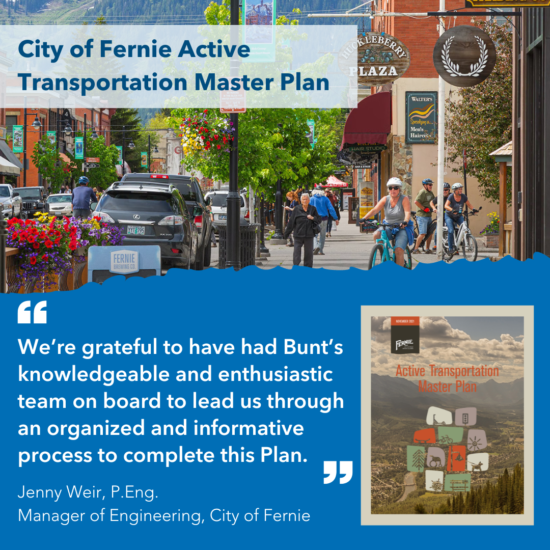 City of Fernie Active Transportation Master Plan
Bunt & Associates is pleased to share the recently completed City of Fernie Active Transportation Master Plan (ATMP). The city-wide plan defines the role and function of the transportation system in Fernie and will help guide the City in designing and implementing a strong multi-modal transportation network over the next 25 years.
Bunt worked with the City and Council to engage with a range of stakeholders and review the needs of all transportation users. The resulting plan identified and ranked infrastructure mobility improvements based on needs, cost estimates, and community input.
Kudos to the Bunt Team who led this project to a successful outcome – Mike Furuya, Principal; Amrit Uppal, Senior Transportation Engineer; Jason Potter, Senior Transportation Planner; and Brandin MacMillan, Senior Transportation Technologist.
"The City's new Active Transportation Master Plan summarizes our community's vision and goals surrounding transportation around our City, provides prioritized projects to meet our objectives, and is a practical tool that supports our decision making in implementing the recommended improvements. So far, we've used it to support the implementation and funding of two exciting multi-use trail projects! We're grateful to have had Bunt's knowledgeable and enthusiastic team on board to lead us through an organized and informative process to complete this Plan."
– Jenny Weir, P.Eng., Manager of Engineering, City of Fernie
Posted: September 2022