Bunt Bits
More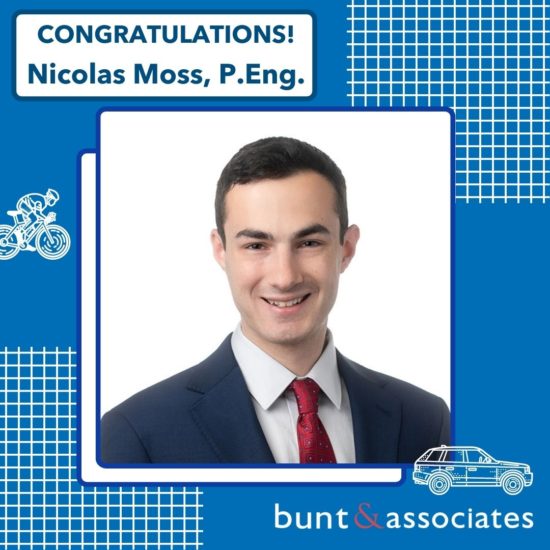 Congratulations Nicolas Moss, P.Eng.
Congratulations to Nicolas Moss, P.Eng. for becoming registered as a Professional Engineer with Engineers and Geoscientists British Columbia. Nicolas joined Bunt & Associates in 2018 as a co-op student and returned full-time in 2019 after obtaining his degree of Bachelor of Applied Science in Civil Engineering from the University of British Columbia. With over 4 years of experience working in both public and private sectors, he has been involved in various transportation engineering projects, including traffic impact assessments, travel demand forecasting, parking and circulation studies, transportation demand management programs, and integration of transit routes and exchanges with development projects.
"A big thank you to everyone who's provided mentoring and gotten me prepared for this new responsibility, and especially to the senior Bunt folks for creating a supportive environment for professional development. Here's to keeping the world moving!" – Nicolas Moss, P.Eng.
Posted: November 2022