Bunt Bits
More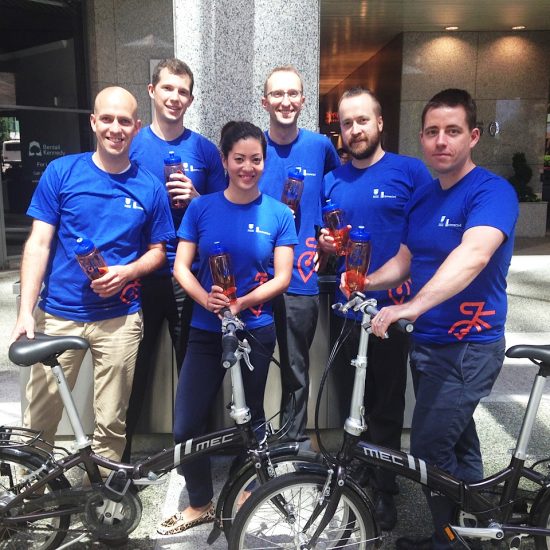 Message in a Bottle: BikeMaps.org Blitz
Vancouver cyclists should check their bike bottle holders on Thursday, June 18, 2015.  Transportation Planners & Engineers from Bunt & Associates will be blitzing bike racks across the City to raise awareness about cycling safety. Each water bottle contains a message inviting the unsuspecting owner to help improve cycling safety by mapping crashes, near misses, hazards, and thefts to the BikeMaps.org website, developed as part of a research program at the University of Victoria (UVic). Bunt & Associates and UVic, together with Simon Fraser University (SFU), are undertaking a joint project to use the BikeMaps data to study cycling safety in the City.
"Cycling is a healthy, efficient and fun way to get around. We need better data through tools like BikeMaps to inform where we need improvements that make people feel safer cycling. Currently the primary source of data available is ICBC reported incidents. Our recent analysis of injury locations of cyclists who visited Vancouver emergency departments highlighted incident locations that are typically missed– falls and crashes along our off-street paths and corridors"  says Meghan Winters from the Faculty of Health Sciences at SFU.  Tim Barton, Senior Transportation Planner at Bunt & Associates adds, "Poorly designed intersections, dangerous crossings, and lack of dedicated facilities can all deter cyclists. We anticipate that this study will provide statistical evidence that certain types of cycle infrastructure provides greater safety than others."
Members of the media are invited to take photos and/or video of the bottle blitz and interview Bunt & Associates bconnected team about the project. Approximately 500 BPA free water bottles will be distributed throughout Vancouver.
When: Thursday, June 18, 2015 @ 12:00 p.m.
Where:  Olympic Village Plaza, Vancouver
About Bunt & Associates – bconnected:
Bunt & Associates is a progressive western Canadian transportation planning and engineering firm offering a balanced and sophisticated insight into both urban and rural transportation challenges. bconnected is a platform that supports the passion of our staff in advancing community well-being, and it is a vehicle to raise awareness of organizations and initiatives driving positivity world-wide.
About BikeMaps.org:
BikeMaps.org is a global mapping system that allows citizens to map locations of cycling incidents and report on the nature of the event, developed by Dr. Trisalyn Nelson's team at the University of Victoria. Attributes collected are designed for spatial modeling research on predictors of safety and risk, and to aid surveillance and planning. Released in October 2014, within 2 months the website had more than 14,000 visitors and mapping in 14 countries. An Android app is now available with an iPhone version coming in July.
Media contacts:
Tim Barton – bconnected w/ BikeMaps.org Team Lead, Senior Transportation Planner, Bunt & Associates | 604-685-6427 ext 226 or tbarton@bunteng.com
Dr. Trisalyn Nelson – BikeMaps.org Program Director, University of Victoria, Deptartment of Geography | 250-472-5620 or 250-886-3248 or trisalyn@uvic.ca
Meghan Winters, Ph.D., Assistant Professor, Faculty of Health Sciences, Simon Fraser University | 604-315-0484 or mwinters@sfu.ca
Posted: June 2015