Bunt Bits
More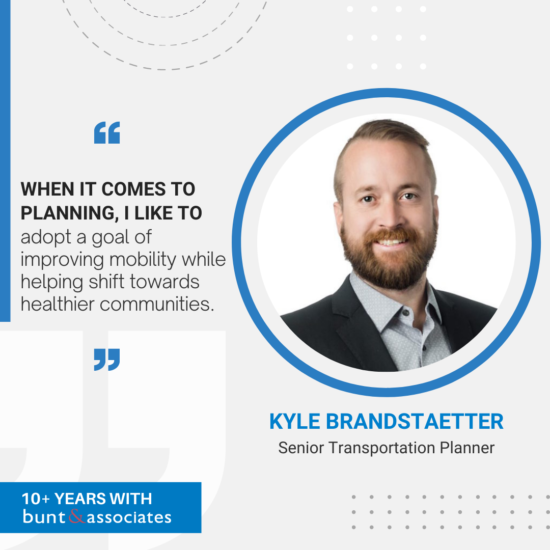 Meet Kyle Brandstaetter
When did you start working at Bunt & Associates?
I joined Bunt & Associates in 2011.
What do you like about working at Bunt & Associates?
I like the people at Bunt. I also like the evolving nature of the work we do and the exciting projects that I get to be a part of.
What do you enjoy most about transportation planning?
I like that we find ourselves at a time where there is paradigm shift in the profession – a shift away from auto-centric planning and engineering. With new technologies and a global response to climate change, I feel like this is a great time to be a Transportation Planner, and to be part of real change in how people travel.
What are you most passionate about when it comes to your career?
I am most passionate about promoting active travel through a thoughtful and equitable planning process. When it comes to planning, I like to adopt a goal of improving mobility while helping shift towards healthier communities.
What three things would you take to a deserted island?
My wife and kids
Lots of food and water
A surfboard!
Posted: November 2021