Bunt Bits
More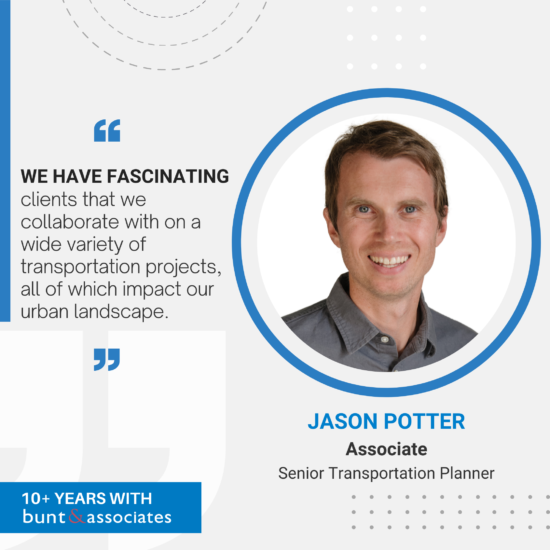 Meet Jason Potter
When did you start working at Bunt & Associates?
I started in our Vancouver office, summer of 2005.
What do you like about working at Bunt & Associates?
I get to work with wonderful and bright planners and engineers. We have fascinating clients that we collaborate with on a wide variety of transportation projects, all of which impact our urban landscape.
What type of projects do you enjoy the most?
Music festival transportation plans are perhaps my favorite projects; dynamic, real-time, and bicycle-based plan implementation with a musical backdrop.
What are you most passionate about when it comes to your career?
I've been passionate about Active Transportation ever since I spent a year precariously cycling through the outskirts of Tokyo to save a couple bucks on train costs. And in Manchester, UK, where I would frantically cycle across town to get my post graduate papers submitted on time.
Any achievements you want to highlight?
I had the opportunity to be a guest lecturer for Perspectives in Transportation Planning and Engineering at the University of Victoria. I appreciate the Engineering Department for recognizing the value of transportation planning principals; especially for a profession that at one point in time was only done by engineers.
Where would you go in a time machine?
Back to Hinton, Alberta 1980 to gather Wayne Gretzky rookie cards.
Posted: October 2021