Bunt Bits
More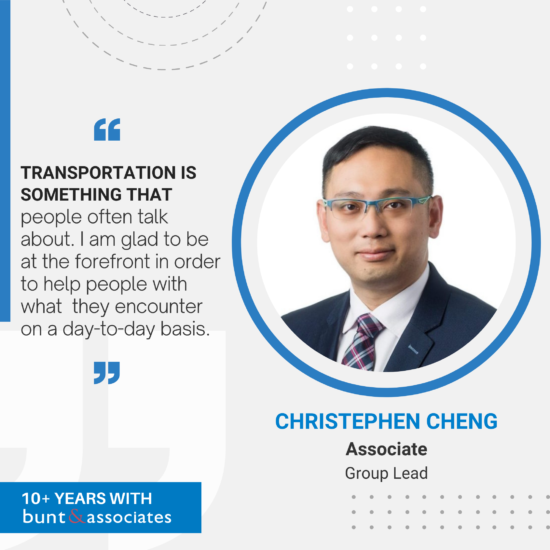 Meet Christephen Cheng
When did you start working at Bunt & Associates?
I started working at Bunt & Associates in January 2005.
What do you like most about working at Bunt & Associates?
I appreciate the opportunity to work on many high-profile projects that help shape our cities.
What does your expertise include?
Over the years, I have worked on numerous master plans ranging from university campuses, health care facilities to residential/commercial transit-oriented communities.  More recently, I have lead several parking and TDM studies that help municipalities modernize their parking bylaws to meet the communities' changing mobility needs.
Recent project highlights include the New St Paul's Hospital Design-Build, Simon Fraser University Campus Master Plan, Brentwood Town Centre Redevelopment, Senakw Master Plan, and City of Coquitlam's City-Wide Parking Review.
What are you most passionate about when it comes to your career?
Seeing things being done right and passing this mentality on to our younger staff so that they strive for excellence in their work.
What are you particularly proud of?
More recently, I have been working as a Group Manager overseeing a couple of our teams at our Vancouver office and working as the Senior-in-Charge for our technical projects.
What do you like most about the transportation planning and engineering discipline?
Transportation is something that people often talk about.  I am glad to be at the forefront in order to help people with what they encounter on a day-to-day basis.
Where would you go in a time machine?
I would like to go back to the time before cars with combustion engines were being mass produced.
Posted: September 2021