Bunt Bits
More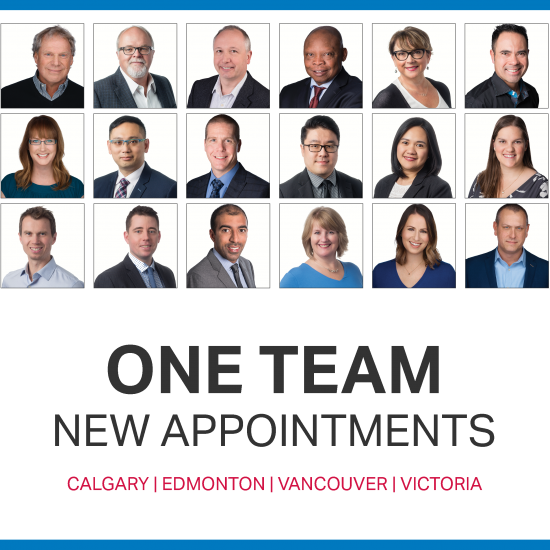 Announcing Corporate Amalgamation & New Appointments
Our story began in 1993 with a handful of transportation engineers, an abundance of entrepreneurial spirit, and a small office located in Vancouver, BC. With a client-focussed approach to business, we continued to expand our Vancouver office and also opened offices in Victoria (1998), Calgary (2001) and Edmonton (2002). Fast forward 25 years since inception – we are pleased to announce corporate amalgamation, new leadership appointments, and the addition of 10 new shareholders. This restructuring represents an exciting time in the evolution of our company with growth opportunities for staff and an expanded and seamless connection to expertise beyond local borders.
Bunt & Associates Engineering Ltd. (Bunt) is one company and one team represented by 60 of the finest transportation planners, engineers, technologists, and support staff in the industry. As we move forward, Bunt remains committed to placing high value on outstanding service and building long-term client relationships, and fostering the family-friendly and supportive culture within our firm.
We are proud to acknowledge the following individuals on their recent appointments:
Principals:
Mark Huberman, P. Eng. | Board Co-Chair
Peter Joyce, P. Eng. | Board Co-Chair, Past President
Glen Pardoe, P. Eng. | President
Dr. Ezekiel Dada, P.Eng. | Manager of Finance
Jane Farquharson, P. Eng. PTOE | Regional Manager British Columbia
Mike Furuya, P. Eng. | Regional Manager Southern Alberta & Saskatchewan
Catherine Oberg, P. Eng. | Regional Manager Northern Alberta
Associates:
Christephen Cheng, P. Eng.
Jason Dunn, P. Eng.
Daniel Fung, P. Eng.
Yulia Liem, P. Eng., PTOE
Kristen Myers, P. Eng.
Jason Potter, PTP
Tyler Thomson, RPP, PTP
Amrit Uppal, P. Eng.
Janelle Willis, P. Eng.
Sean Willis, P. Eng.
---
For more information, contact:
Leanne Buck, Communications Director
e. lbuck@bunteng.com
Glen Pardoe, P. Eng., President
e. gpardoe@bunteng.com
Posted: February 2018